Prescribed Weed Control

PRESCRIBED WEED CONTROL MEASURES
Envirogroup provide all types of weed control. Here is a classic example of Wild Artichoke which has obviously got out of control, quite easily done. Wild Artichoke can populate very fast before your very eyes and the next thing you know is that you have quite a large problem to deal with. We can take care of these problems for you in any terrain whether it be flat paddocks, sloping hill sides or steep and hard to get to places.

Wild Artichoke cannot be eradicated in just one treatment, sometimes several years of follow up treatment is required as the seeds can lay dormant under the ground's surface ready to simply populate again. The best approach is to spray these weeds before they get a chance to flower, go to seed and spread across the land by the wind.
Re-Vegetation Programs

RE-VEGETATION PROGRAMS
Envirogroup also provide land re-vegetation programs. We can provide the entire program from the trees, plants and wind protectors along with our highly experienced staff. With all of our clients, we discuss the specie selection required, the purposes of the re-vegetation such as to create a visual screen or to create a shelter belt.

Using the correct mix of tree species and the correct positioning we can establish both a vegetation and visual screen that also has great biodiversity value inviting natural wildlife and local native birds.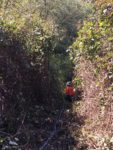 Blackberry Control Measures on Massive Infestation We recently had to treat a massive infestation of Blackberry that had overtaken a huge area of the property. Not only was the Blackberry around 8′ tall (2.4m high), but to make things even more difficult it was located on an extremely steep embankment…
Tree Felling and Pruning
TREE FELLING AND PRUNING
Tree felling and pruning to allow for an overhead optic fiber cable to be installed at one of the many quarry sites that we provide services for. Envirogroup hold EWP and Chainsaw Licences for performing high risk tree work such as this.

Branches and logs are usually put through a chipper reducing the material to a usable mulch and leaving minimal mess. Large trunks and logs are cut down to fire wood size.

TREE FELLING AT STONYFELL QUARRY